It's been almost two weeks since The Mill's London studio became immersed in a truly inspiring week long program which brought diversity and inclusion related discussions front and centre for staff and clients visiting the building.
In light of National Inclusion Week, the annual campaign to raise awareness of the importance of inclusion in the workplace, The Mill's Group Head of Learning and Development arranged for a number of expert speakers to hold sessions for Mill staff and clients. Covering a wide range of topics, speakers included,
Peter Tatchell
(LGBT and human rights campaigner) and
Harriet Minter
(women's leadership columnist); whilst there was also be the opportunity to hear from the
AMVBBDO
creative team behind the recent
Maltesers 'Superhero'
campaign in support of the Paralympics.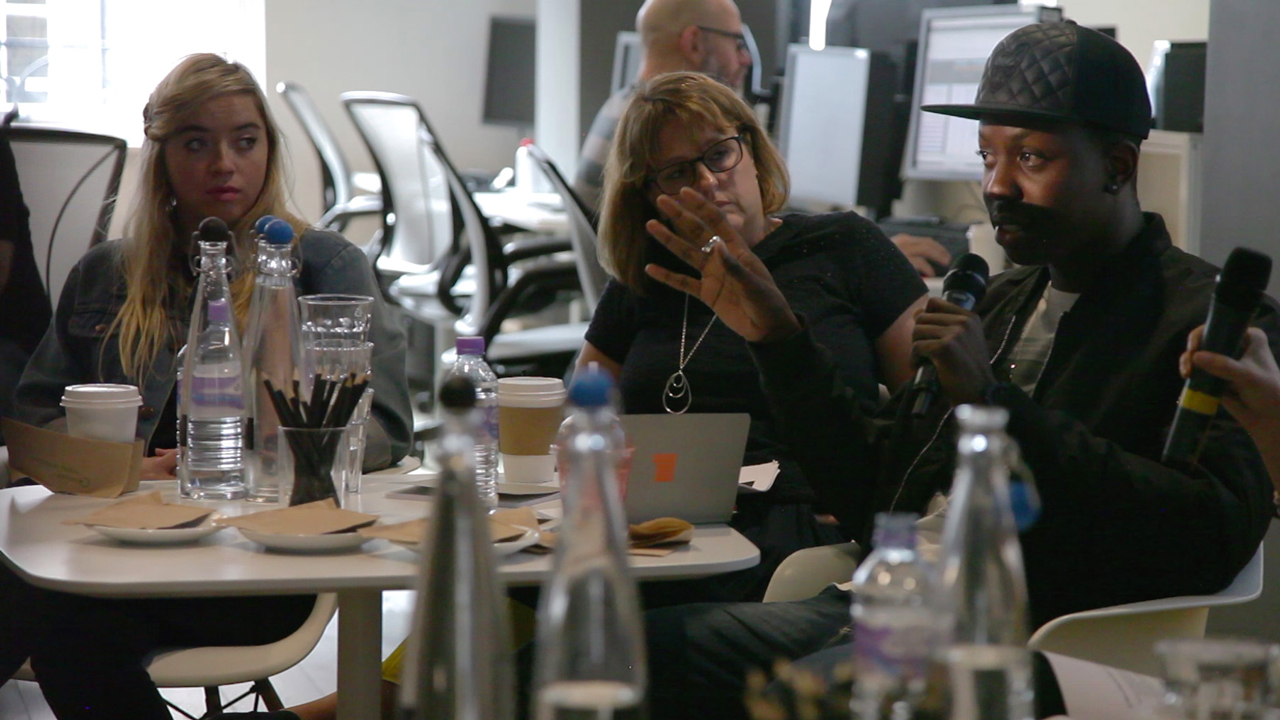 A highlight of week was
The Mill's Breakfast Panel
which saw an esteemed panel gather together before a packed room to discuss diversity in the creative industry. The panel, chaired by Emma Sexton (Founder and Creative Director at
Make Your Words Work
), included Jamal Edwards (Founder and CEO of
SBTV
), Vicki Maguire (Executive Creative Director at
Grey
), Louise Hussey (VFX Chair of Animated Women and Executive Producer at
DNEG
), Jennifer Byrne (Head of Development at
Somesuch
) Paul Frampton (Group CEO at
Havas
) and The Mill's Executive Producer Reece Ewing.
Having now had time to reflect on what was a highly stimulating and dynamic session we decided to catch up with a couple of the panelists and take a more in depth look at some of the key points which arose.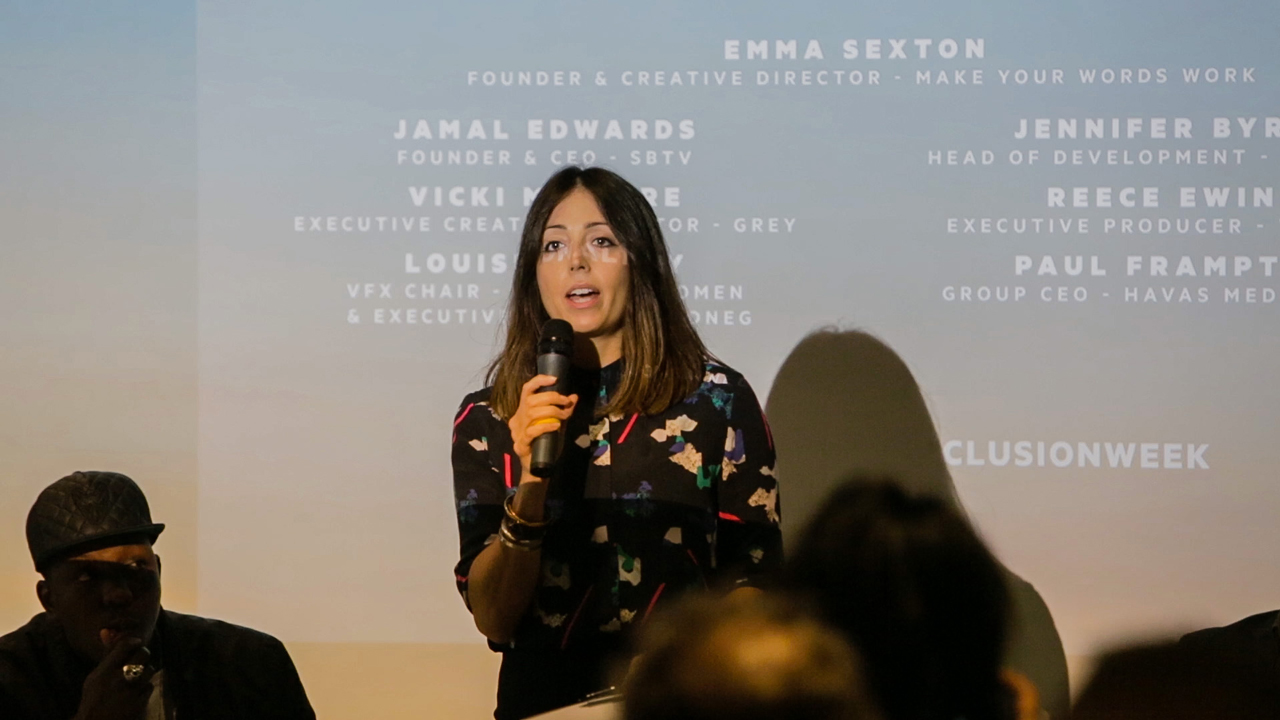 Why is it the 'business case' that only becomes the driver? Why not humanity?
Emma Sexton (Founder and Creative Director at Make Your Words Work):
A business is nothing without it's people yet the traditional world of work advocates paying people (especially women) as little as possible and working people as hard as they can. On top of this we have a 'school for grown ups' culture – ridiculous rules which treat people as untrusted children. By 2020 40% of the workforce will be freelance. People are opting out. People are telling you that this is not OK. I have been running my design agency according to 'Teal' principles for 3.5 years and I can tell you that there is nothing stopping anyone running a business with trust, autonomy and freedom except their ego.
How do we stop creative work still being influenced by the old 'lens' / societal conditioning?
Emma Sexton (Founder and Creative Director at Make Your Words Work):
Start with the audience and then think about whether the team working on that brief genuinely reflect that audience. Secondly, creative no longer needs to be created in a vacuum. Experiment with different routes and observe the audience reaction.
Social media is driving the celebration of the individual 'find your tribe', yet why are agencies not braver? Why are brands not braver?
Paul Frampton (Group CEO at Havas):
Many agencies are brave at the outset but when challenged retreat. Agency leaders need to encourage their people to be bolder in arguing their case for being braver. Sadly, we seem to be in a time when, despite the contrary being required, marketing is being demoted from the board table and cost management is leading to less bravery. At the end of the day, it comes down to a deep understanding of the end customer but also the (client) customer - overcome the concerns or fears around being brave by demonstrating the forecast return ( engagement through to outcome) and you'll be pleasantly surprised at improvement in success rate.
How do we encourage and attract new talent into the industry? With all the bad press (e.g. Kevin Roberts) Is the industry still attractive?
Paul Frampton (Group CEO at Havas):
The industry certainly needs to take some of its own medicine. It creates, changes and unravels perceptions as part of its day job. The industry continues to be populated by the offspring of those that started the industry in the main so we must do more to attract new audiences. The IPA is doing great work to attract STEM students and with the range of services agencies provide today, the diversity of job functions available is vast from social content creators to data analysts to buyers to producers. There are jobs that are relevant to broader graduates but more importantly, many of the newer jobs in areas like social and video demand digital natives so sourcing apprentices based on skills and ambition and not experience is the way forward. I'm proud to be an advisor for a digital platform startup called Your Feed which promises to connect young people to new opportunities through show casing their portfolio.
There is still not an environment in the industry for women to thrive – let alone other minorities. How can we drive change faster? Is positive discrimination and quotas required?
Paul Frampton (Group CEO at Havas):
Quotas are part of the solution by no means the solution. Quotas help focus the mind and are a good KPI but people can game the system without creating sustainable long term change Cultural change needs to come from the top and the bottom of an organisation. At Havas, we invest in education and inclusion as the first priority and under the Havas Fusion umbrella, we encourage and then back initiatives that emanate from within the business such as our LGBT #OutatWork events in London & Manchester led by the passionate Adam-Spawton Rice.
What do we need to change to foster a more diverse and inclusive working culture?
Paul Frampton (Group CEO at Havas):
We discovered from asking our own talent that when you frame the conversation as inclusion, this is a much broader topic than gender, race or LGBT. Within this, it is important to also include mental health, disability and even simple things like whether Thursday night drinks alienate certain members of your team, because they don't drink. Interestingly, mental health was ranked as the most important issue our people wanted to see change. For me, it is key to educate people to be in touch with their unconscious bias so that they don't hire people that look like them. There is too much nepotism in our industry and as it is a rather small community, we rely on recommendations from people we know, as opposed to looking further afield for candidates who may not have ticked all the boxes in terms of previous experience, but are a perfect fit with your culture and over index on the attributes needed to excel in the role.
It's also about people feeling able to bring them whole selves to work, not have to hide what makes them them. Celebrating difference is what will make the ad industry continue to be the best in the world at creativity but that needs whole scale change, not just one or two brave enough to speak out.
What's the one thing we can do differently starting from today?
Paul Frampton (Group CEO at Havas):
All agency leaders need to take responsibility for their hires. Ensure your recruitment agencies reassure you that they have a clear policy to ensure diversity and mix up the process to ensure unconscious bias doesn't slip in and make it your mission to bring in talent with no qualifications but rich passion and ability in the digital space.
Thanks once again to all those who attended and, of course, our esteemed panelists.
To find out more about the cause, click here.