Jasmine Ghoreishi, known to most as 'Jazz', one of our 3D Artists in The Mill's London studio, has been creating quirky self-portraiture doodles on empty coffee cups for almost a year. Her collection of works on this unorthodox platform has now reached over 140 and has attracted the attention of her fellow artists and the wider company. For many, a day would not be complete without seeing one of Jazz's cup creations.
Jazz produces doodles which portray her day to day life, from big moments to the mundane, capturing a feeling or event in just one quick drawing.
We caught up with her to find out more about the inspiration behind her cup doodles and to pick out a few of her highlights.
When did you start doodling on cups?
During the Chemical Brothers 'Wide Open' job. When you are working on an intense job it's good to do something to wind down and in my down-time I began doodling. I had my mocca cup in front of me and I doodled my face on it. It was Tuesday and I was already tired...so I made a cup about that.
Where do you find your inspiration?
The cups are essentially the story of my life. Basically, it's one cup a day, about what happened that day, a feeling, an event, something I thought about, something which reflects my life but also those of others. Everyone gets tired, goes to work, gets bloated, gets hungry, gets sore after going to the gym...they can relate to all my stories.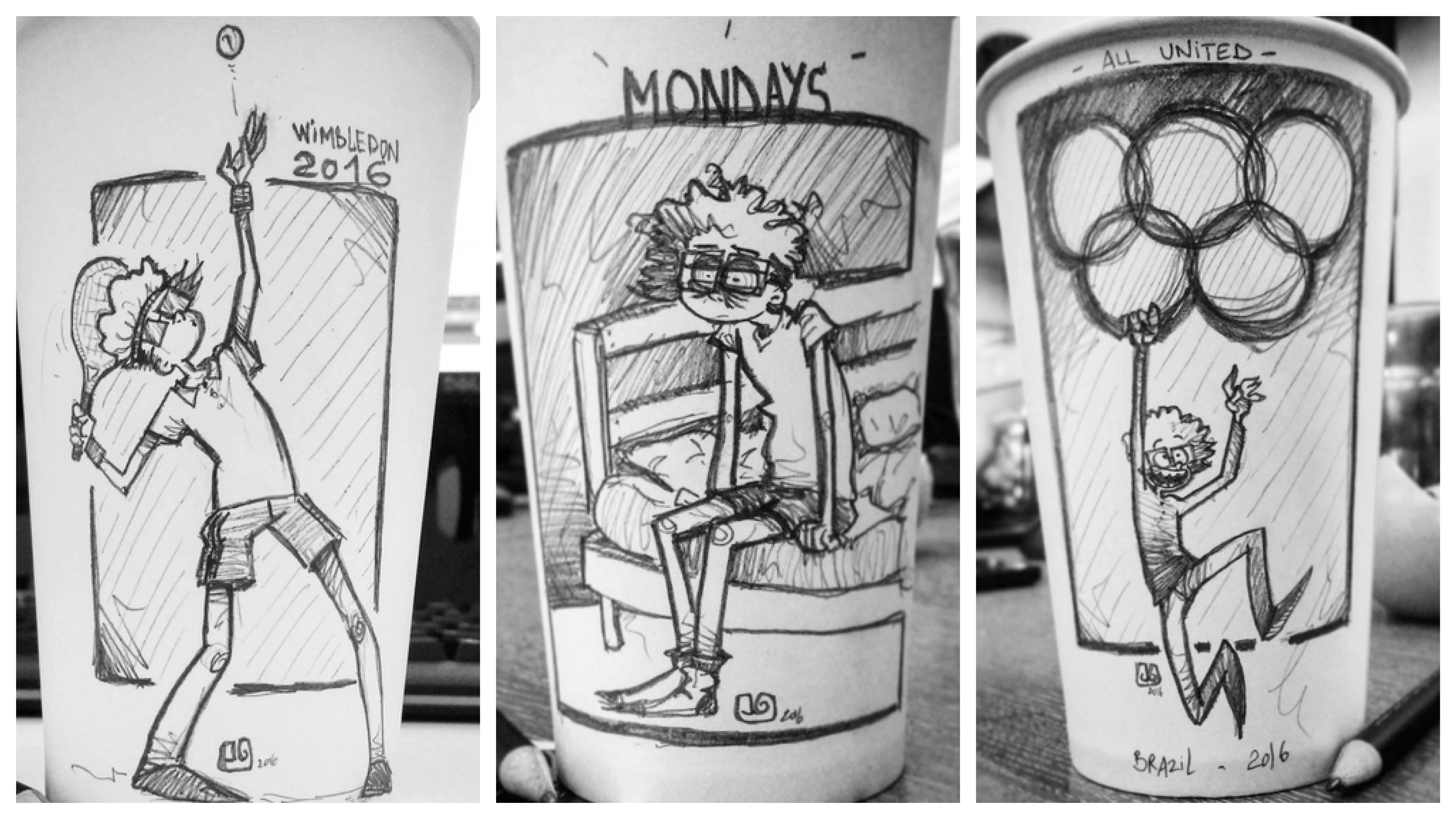 Who is your favourite artist?
I don't really have one. there are so many. Lately I have been following
Graham Grickle
, a very simple style but still very funny illustrations. I wonder where he gets all those ideas, they are really amazing!
What's your favourite artistic style?
Black and white, pencil on paper. Simple lines but energetic. Although, I also draw on graphic pads with photoshop, but again, just black and white, cartoon style. Anything simplistic but that still tells a story.
How did you formulate your own unique style of doodles?
My style has changed over the years. I started, when I was very young, copying Tintin drawings from Herge comic books
. I loved how simple his drawings were but how they still remained funny and expressive. I then brought my own feeling in it, constantly developing my style. My style has even changed since I started the cups. I used to draw bodies pretty accurately, curves and everything, and lately it has turned more into sharp edges and energetic lines, big googly eyes. Changing up my style slightly keeps it fun and fresh.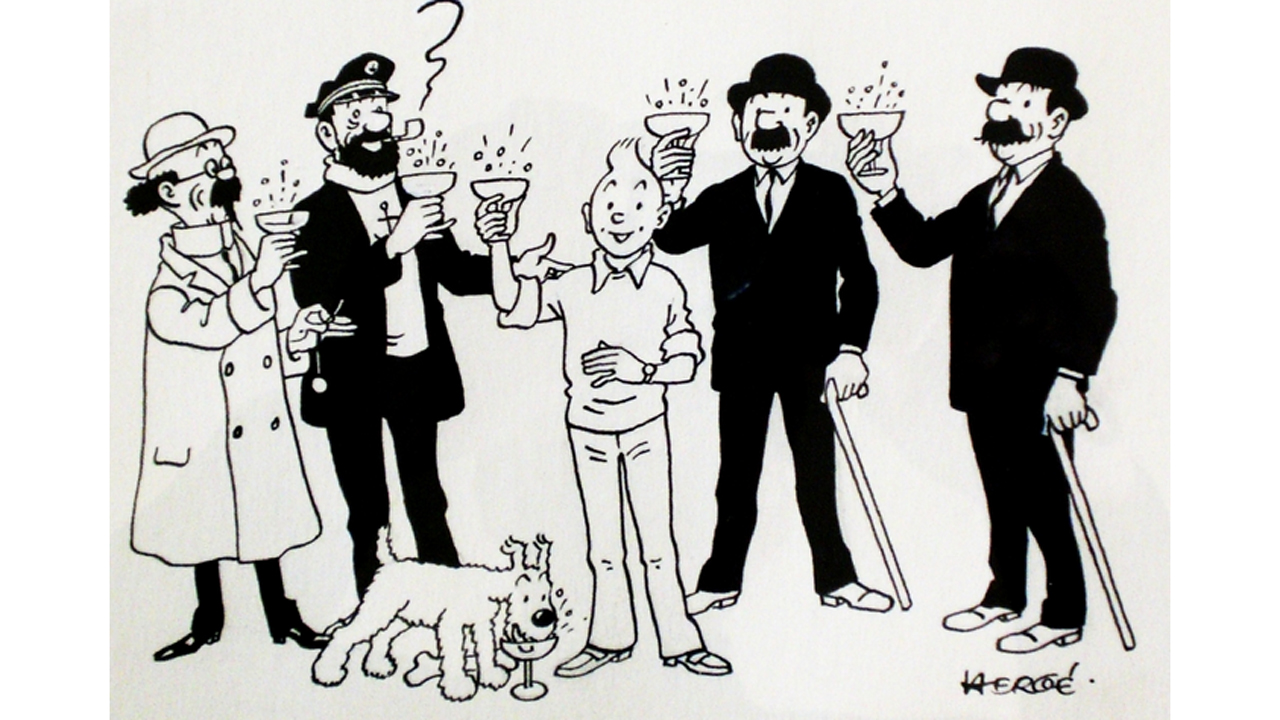 What is it about the cup platform which you find particularly interesting?
I initially started on cups because I wanted to draw but didn't have any paper and the cup seemed like a good enough white canvas in the moment. It then just became fun and challenging. Some people expect me to create a cup drawing everyday! If I miss one cup, and don't upload it to
my instagram account
, my dad would send me a text like, "where's today's cup??"
You only get a limited space on a curved surface to be able to draw something that tells a story and then take a photo of it, managing to have the whole thing in one frame. The curve of the cup makes the drawings pop out too and it's hard to get a line to appear straight on a curved surface.
Before jumping straight into the drawing I usually just stare at my cup, trying to visualise my idea, calculating the space I need. Thankfully, it usually turns out the way I imagined it and it usually only takes about twenty minutes to do my cups meaning it doesn't take up too much time. I can create a drawing during two playblasts or feedbacks, it's usually finding an idea that takes longer. To come up with a story worth sharing.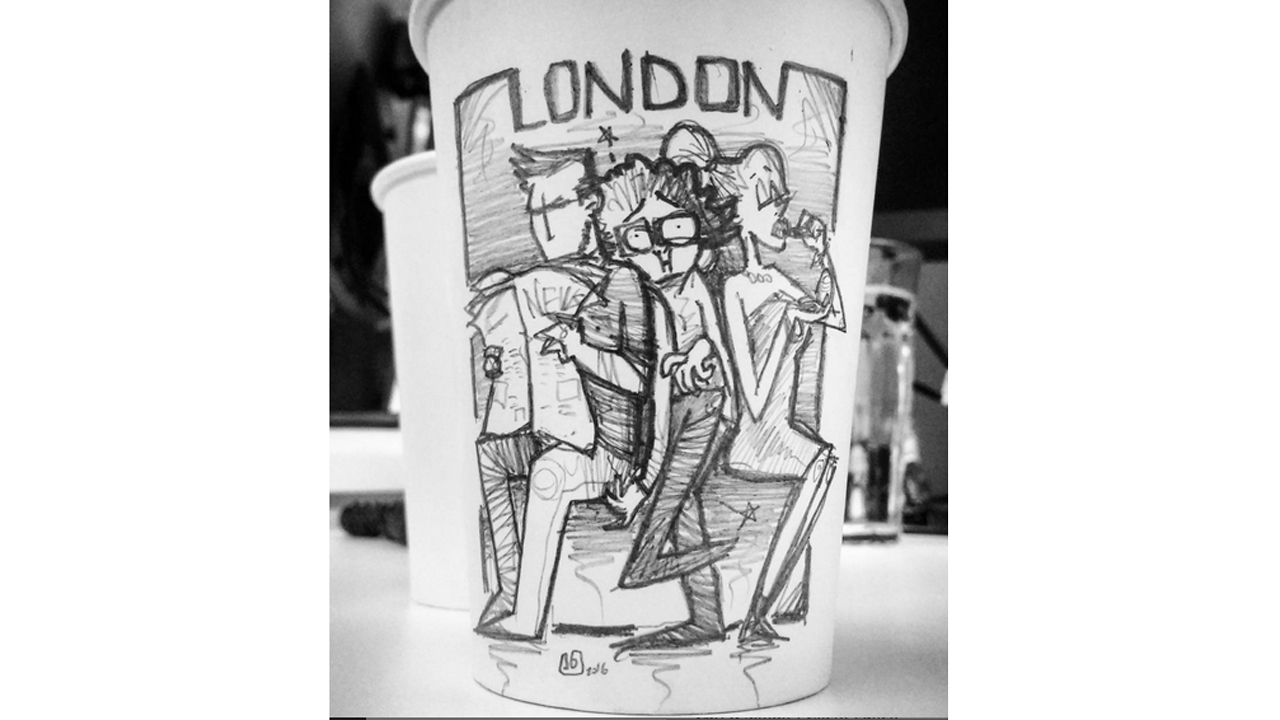 Where's the most interesting place you've doodled?
I usually only draw at work because there I can find inspiration and it makes good use of down time. Also, that's the only place I can find simple, blank, white paper cups!
However, I recently went to Canada on a two week trip with limited access to white cups, and didn't have much time to draw (so my "fans" on Instagram where quite sad) but at some point in Vancouver I stopped at a Tim Horton's for a hot chocolate (how Canadian of me!), and couldn't resist a little doodle on that bright red paper cup, just to inform everyone that I was coming home soon and that the cups would be back!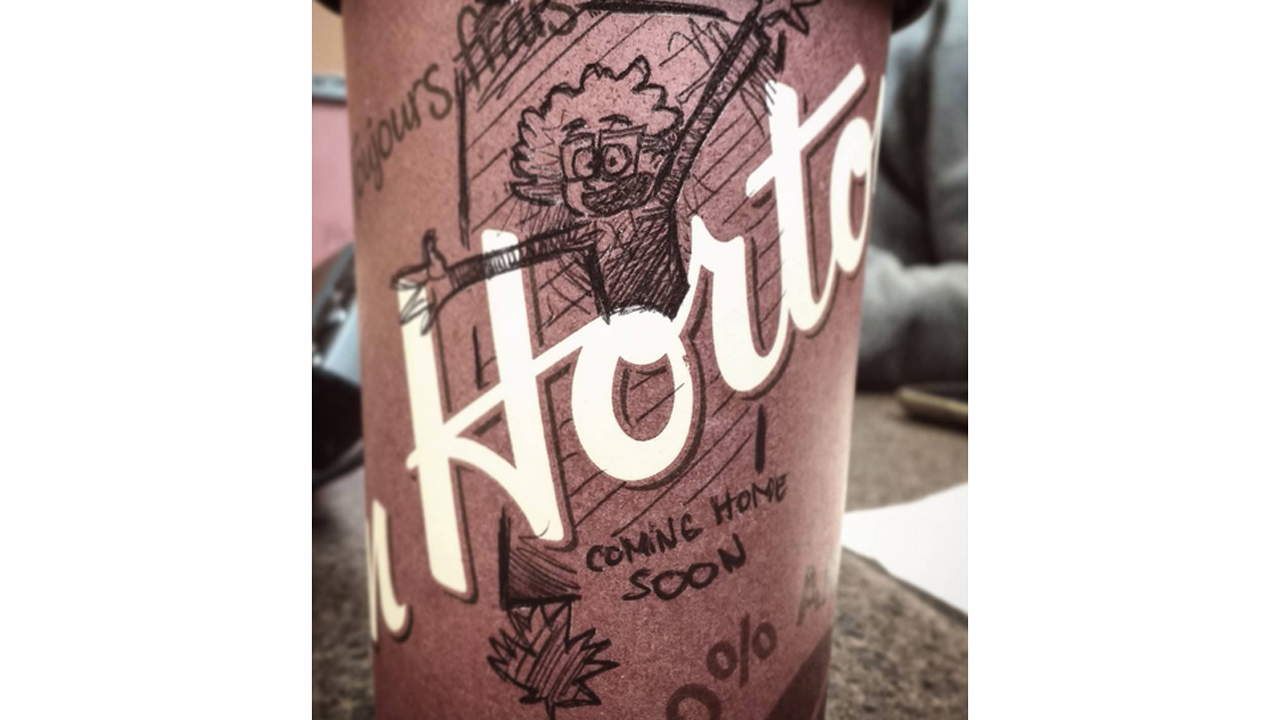 To view more of Jazz's cups check out her Instagram page here

.