The Mill Character Animation Reel showcases the top 2D Animation and CG Character work from Mill Animation, a diverse team of artists and directors bringing ideas to life through the use of movement, storytelling and timing. Set to the track 'Ain't No Way' by Sirus Music, the reel was directed by Mill+ Creative Director Jimmy Kiddell.
Take a look at a breakdown of the featured spots below:
00:03 | Opening Ident Mill NY | Directed by Rama Allen (Mill+)
---
00:08 | Legoland 'Awesome Awaits' | Directed by Russell Tickner (Mill+)
Mill+ collaborated with BMB to create LEGOLAND's action packed spot 'Awesome Awaits' featuring millions of CG LEGO bricks brought to life by the power of animation.
Each character was carefully concepted, designed and crafted by the 3D team over several months before being animated and brought to life, utilizing millions of CG LEGO bricks. It was then the job of the 2D team to blend all of the CG LEGO renders and matte paintings into live action plates, captured during the shoot in Cape Town.
Find out more:
Behind the Scenes of Legoland 'Awesome Awaits'
---
00:10 | Country Crock 'Imagination' | Directed by Ben Smith (Mill+)
Country Crock 'Imagination' transforms an everyday meal with Mom into an exciting adventure with a heroic farmer and the colourful monsters prowling the tabletop. The spot is a celebration of the limitless creativity of a child's imagination and its ultimate champion, a playful and nurturing mother. Mill+ Director Ben Smith collaborated with Campbell Ewald and Creative Director Chip Rich to bring the fantastic make-believe world to life.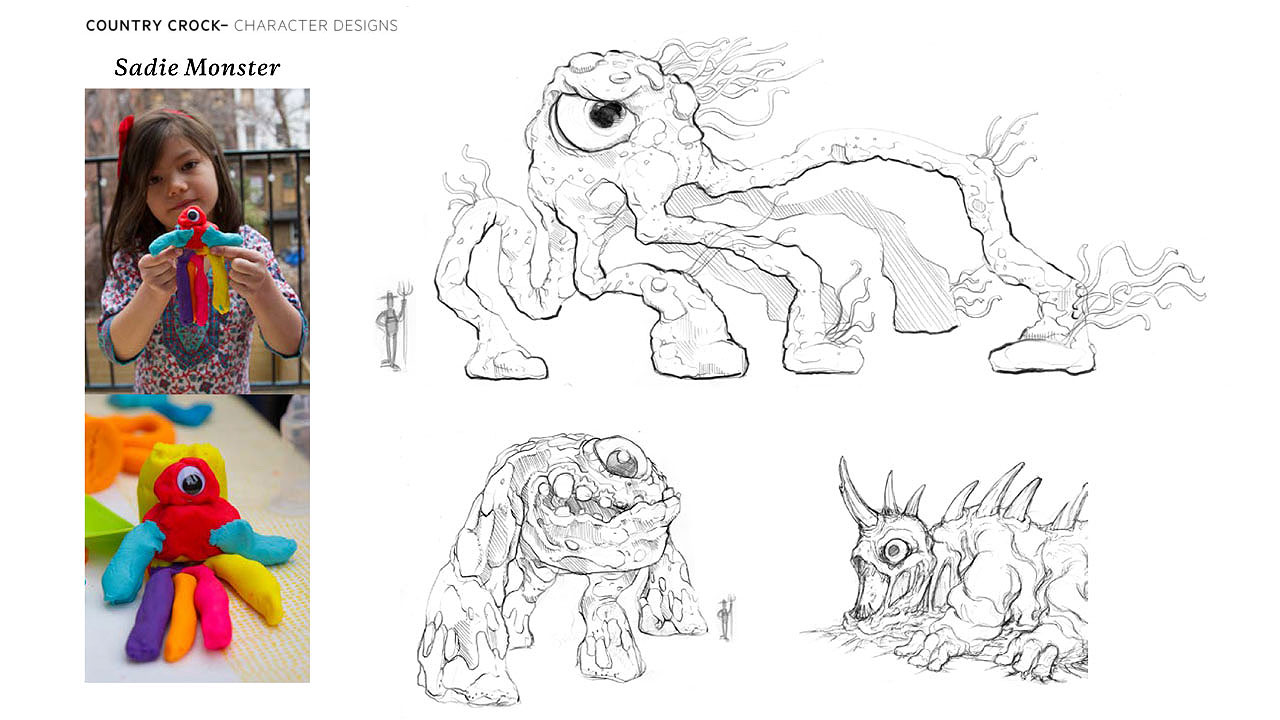 To show that a child's imagination is the key component to this magical world, the characters needed to reflect a child's ability to explore and create with even the most ordinary and everyday objects. Ben found the perfect source of endless wonder and creativity to help create the film's unique characters, the imagination of his kids, and their friends and family.
Find out more in our behind the scenes blog:A Look Inside A Child's 'Imagination' for Country Crock.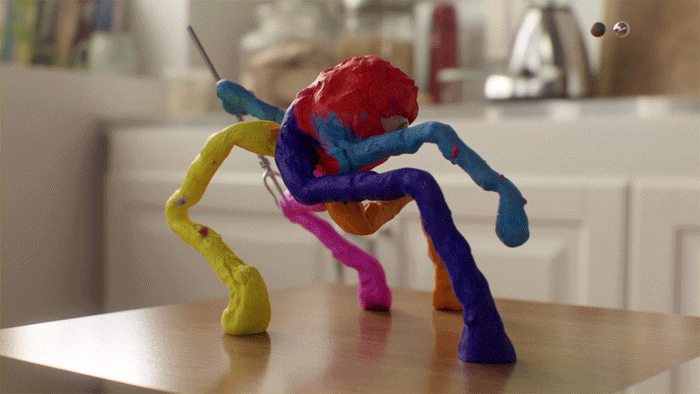 ---
00:13 | Hay Day 'Too Much Wool' | Directed by Robert Sethi (Mill+)
Created in collaboration with Barton F. Graf 9000, and the marketing and game teams at Supercell, Mill+ Director Robert Sethi directed Hay Day 'Too Much Wool' starring a CG animated crew of quirky barnyard animals as they snowball through the Hay Day farm. Staying true to the personality of the game's characters created by Supercell, artists at The Mill engaged classic animation techniques to give the characters strong body language and perfect comedic timing.
---
00:14 | Kinder Not Hilfe 'Birds and Bees' | Directed by McBess
---
Mill+ Directors Bif (Fabrice le Nezet and Jules Janaud) designed and directed a fittingly striking Opening Title Sequence for the 2015 OFFF Porto festival. The film is a journey through London following some colourful and quirky CG characters whose playful nature contrasts with the dark urban atmosphere shot in black and white 5D.
Find out more about how the titles were created: An Interview with Mill+ Directors Bif blog.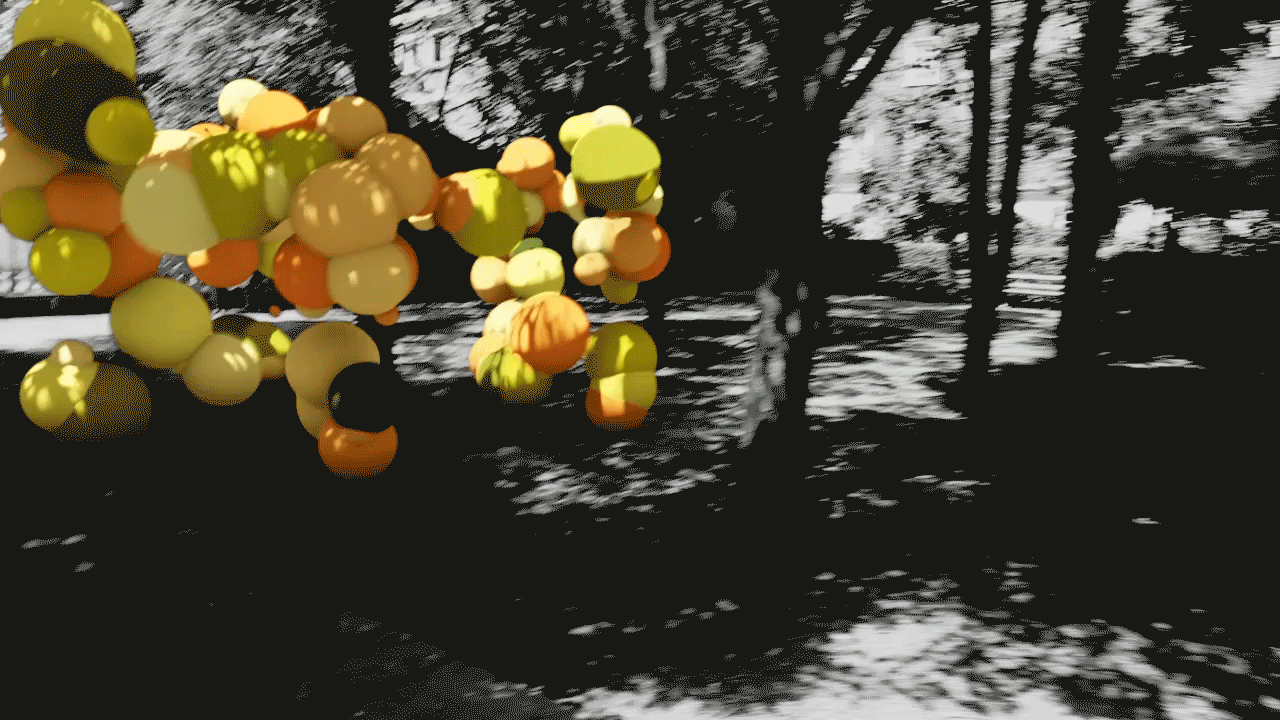 ---
00:18 | Pikman 3 'Battle Call' | Directed by Andrew Proctor, Nick Lines (Mill+)
Find out more about the project in our Interview with co-director Nick Lines.
---
00:21 | Becel Medley 'Basketball' | Directed by Jimmy Kiddell (Mill+)
---
Mill artists created the CG quotor-bots Brian and The Herberts family in a series of spots for Confused.com. The Herberts were all created by The Mill's 3D team, led by Dave Fleet and Elizabeth Mitchell, before being comped into the live action setting.
The team of Robots were designed by Mill concept artist Melanie Climent, who comments, "the brief was to design a host of robot characters similar to Brian, using similar shapes and materials, but at the same time, find a way to make their personality readable. This lead us to create the Herbert family; Chief Herbert, Miss Herbert, Clever Herbert, Stunt Herbert and Baby Herbert.
With the aim in making each character look cute, we had to take into consideration elements such as their proportions and how they were going to move, which we achieved by mismatching the size of their heads and eyes compared to they bodies, and making sure they weren't too flexible, giving them a clumsy movement."
The lovable and troublesome robots return for 'Ninja Idents', which was created for the new series of the obstacle course game show, Ninja Warrior on ITV. The team at The Mill created all elements of each of the 100% CG spots.
---
00:27 | Cif 'Sleeping Beauty' | Directed by Jamie Lancaster (Mill+)
Mill+ embarked on their first fully CG animated spot with the creation of this spot for Cif, starring the one and only Sleeping Beauty in a dark fairytale for the brand's latest product. The Mill+ team designed and created all of the characters and environments in the fully CG animated fairytale ad to produce a spot with a dark and surreal flavor, starting in a dimly lit tower before finishing in a bright, clean and crisp world. The spot is narrated by Michael Gambon and shows how Sleeping Beauty retained her beauty and shine with the help of new Cif floor cleaner.
---
00:28 | ComEd 'Retired' | Directed by Steve Beck, Adam Grint (Mill+)
Directed by Mill+'s Steve Beck and Adam Grint, ComEd 'Retired' explains how to make the most of their new Energy Efficiency Program. with a bit of advice, straight from the lightbulb's mouth, and other electrical characters created by Mill+.
Adam explains how it was done, "Each electrical character had to exude personality, from the cantankerous incandescent bulb on the edge of retirement to the outlet as the voice of reason, and the new kids on the block: the chirpy LED's and the CFL lamp. We didn't want the design to become too cartoony or stray from the classic design of these household objects. We decided to use elements of the real objects rather than simply placing facial features on the side, and we then used the animation to inject personality. For example, the incandescent bulb has a mouth made from filament wire and his nose is made from the internal glass structures of the bulb. It was just as important to stay true to the materials they were made of. Incandescents wire could flex and bend, but the glass stayed solid."
Steve adds, "With so many light sources in the spot, the lighting was going to make or break the illusion. The characters needed to illuminate the room, without being blown out. If a character moved, we wanted to see the light it creates shift the shadows around it. We wanted the viewer to come away from this seeing the real world just a little differently, seeing faces and characters in the mundane. "
---
00:29 | Schick 'Hydro Robot' | Directed by Ben Smith (Mill+)
Mill+ joined forces with JWT to create 'Hydro Robot', an action packed Super Bowl spot advertising the new Schick Hydro Razor. Director Ben Smith led a team of VFX artists to immerse themselves in the world of robotic design, and craft a robot that reflected the slick and sleek features of the Hydro Razor. Reminiscent of a Hollywood blockbuster, with the added comic touch of a mundane bathroom setting, this epic dual of razors was brought to life using a range of visual techniques.
---
00:31 | Audi A6 'Hummingbird' | Directed Daniel Barber (Knucklehead)
Working closely with Oscar-nominated director Daniel Barber and the BBH creative team, teams from across The Mill to come together to create the vision of an elegant mechanical bird living in a magical surrealist world for Audi A6 'Hummingbird'.
Our brief was to imagine what a bird designed by Audi would look like and to reflect the car's ultra-lightweight technology. Once our Art and Design teams had brought the bird to life, the challenge faced by our 3D team was to animate the bird made from mechanical and car parts.
The Director was keen that the bird's movement should be playful, elegant and agile - and sometimes a bit cheeky - echoing the Audi A6 Avant's lightweight construction. Once this was achieved, we then set about creating the surrealist world for the Audi bird to fly through. The brief required strong real elements, such as sun and light, so the overall effect would appear unique as well as believable.
Due to the sheer scale of this fully CG commercial project, we turned to our talented Nuke compositing team as the Nuke workflow lent itself perfectly to this spot. Not only did it allow us to composite our CG renders quickly and realistically, but it also enabled us to mobilize a large team to plan and map each version of the commercial and individual shots in detail.
---
00:33 | Fiber One 'Don't Fight Your Instincts' | Directed by Steve Beck (Mill+)
Led by Mill+ Director Steve Beck, the Mill+ team created this fully CG underwater scene, along with two sharks trying to snack less in Fiber One 'Don't Fight Your Instincts'. from Saatchi & Saatchi. The challenge was to create believable moving bodies while simultaneously applying an exaggerated personality and humor to the animation. Steve explains, 'We worked closely with the team at Saatchi & Saatchi to bring the vision to life. We wanted to re-create the presence of real life large sharks and the weight of the water around them, even though they act like an old married couple with human characteristics. The final result speaks for itself, I laugh again every time I see it, the characters are so entertaining!'
---
00:34 | Glad 'Fish and Onion' | Directed by Ben Smith (Mill+)
Mill+ collaborated with Alma on Glad 'Fish & Onion' to make the biggest stink possible. This spot was shot in director Ben Smith's Brooklyn kitchen and garage and the Mill+ team directed, animated and colored the spot.
---
00:37 | Norfolk Southern 'City of Possibilities' | Directed by Angus Kneale, Ben Smith (Mill+)
Designed from the ground up to present rail freight in a different light, Norfolk Southern: 'City of Possibilities,' showcases the transformative power freight shipping. Using a balance of cutting-edge visual effects and whimsical charm, the spot seamlessly blends mesmerizing CGI characters into a live action world.
Produced, designed and directed entirely by Angus Kneale (CCO at The Mill NY) and Ben Smith (ECD at The Mill NY), worked closely with RP3 Agency and Norfolk Southern on the overall storyline and sentiment of the commercial. The directors researched extensively all things rail and freight, and spent time on the ground in Roanoke, Virginia a major hub for Norfolk Southern. In addition, Mill Artists meticulously created extensive storyboards, character design and Pre-Viz prior to the shoot.
Since brand name toys were unable to be used, the biggest challenge was creating and designing the Toy cast of characters. Mill Artists let loose their imagination to come up with cool, impressive toys. Every character was designed from scratch and animated to look and feel realistic. Over 40 individual toys and pop-up books were specifically designed for the spot.
"Our cast of characters is a contemporary ensemble of timeless and modern toys that includes robots, action figures, stuffed toys, dumper trucks, cranes, diggers, etc. Between the charm of the character designs, the fun, surprising ways they all collaborate to build a city, and the fact that they all act rather human, each toy, whether it's high or low-tech, has an expression, a personality, and a purpose," explains Kneale.
---
00:40 | Texas Lottery 'A Million Stories' | Directed by Lisha Tan, Andrew Proctor (Mill+)
The Mill and Mill+ at Austin, Texas-based BLK MKT Studios collaborated with LatinWorks on 'A Million Stories' for Texas Lottery. Directed by Lisha Tan and Andrew Proctor of Mill+, the festive campaign was produced entirely in-house and provides a beautiful, lighthearted storytelling experience to promote the brand's Holiday Game Book.
The team used real paper elements to help create the animation and brought the holiday spirit to life by mimicking a pop-up book. Tan, Proctor and 3D lead artist David Lawson spoke to us about the incredibly hands-on nature of the project.
Proctor comments: "There was a delicateness about the animation; like little folded pieces of paper. Everything was built with the idea that it could be made for real - real pieces were cut out and given to the modeling team so that everything had folds and all the details you get from that. So we would test everything for real, then execute it in CG. The folding and unfolding of the paper was probably the biggest challenge of the animation," adds Lawson. "We studied various origami techniques to achieve just the right look."
Tan elaborates on the narrative aspect of the campaign: "In development, we really thought about how these little paper characters might look in real-life whilst retaining the paper, origami, folded aspect. Sometimes I'll design based on what the character's personality should be and I'm often inspired by characters on TV; in Texas Lottery, one of the girls is inspired by Joan from Mad Men."
Find out more: behind the scenes blog
---
00:43 | Halifax 'Top Cat' | Directed by Dom&Nic (Outsider Productions)
The Mill's VFX team collaborated with adam&eve and directors dom&nic to faithfully bring back to life the original Top Cat characters and place them in the modern world. The Mill VFX team carried out extensive research into the original Top Cat design, studying every detail of the animation, including poses and gestures that make up this classic character to achieve an authentic re-creation.
Combining traditional methods with more modern techniques, the team were able to mimic the hand-drawn style of the time-honoured series by drawing the characters in each individual frame by hand, whilst ensuring Top Cat and the gang appeared to seamlessly inhabit and interact with the modern world around them.
Head of Animation, Jorge Montiel explains: "The animation process started with us understanding the essence of the original cartoons. After building a library of old episodes, which we studied in detail, we were then able to start mimicking Top Cat's body language, colours and lines."
Watch the Making of Halifax 'Top Cat' and 'Flinstones' below:
---
00:45 | Orbit 'Lipstick' | Directed by Hank Perlman (Hungryman)
Created in collaboration with BBDO and directorHank Perlman of Hungryman, Orbit 'Lipstick' features Coffee's first big break as a leading man opposite the hilarious Sarah Silverman.
Head of 3D Steve Beck talks us through the process: "Getting the animation absolutely spot on was crucial to the comedy and timing in Coffee's character. He needed to feel natural in his reactions and movements, not overly slapstick to allow the brilliant comedic script from the BBDO team to enhance his personality rather than becoming too much like a cartoon. It was a fun approach and we worked hard to help push the creative boundaries of the character."
He adds: "Naotaka Minami, 3D artist alongside the entire composting team did an incredible job in setting Coffee in to the scene, with a shallow depth of field, reflections and some very clever shading and lighting - they seamlessly bring him alive in the spot."
---
00:46 | Mars Celebrations 'Christmas Tree' | Directed by Dom&Nic (Outsider Productions)
The Mill's VFX team worked closely with AMV and directors dom&nic at Outsider to bring to life the playful and highly photorealistic new festive spot for Mars Celebrations. 'Christmas Tree' depicts a group of characterful Christmas decorations who come to life and link precariously together in an epic struggle to reach for a box of Celebrations under the Christmas tree.
London Head of Animation, Jorge Montiel explains, "We had to experiment with ways to make the figures look realistic and life-like whilst maintaining a sense of stiffness, staying true to their essence as a decorative object. The facial expressions, therefore, had to be minimalistic, but enough to create a sense of character. A key challenge for the team was that we had to create a sense of adrenaline through the animation, giving an action film flavour to the spot."
---
Ben Smith, ECD at The Mill NY, was commissioned to create and direct the title sequence and prologue for 2016 feature film 'Pride + Prejudice + Zombies', directed by Burr Steers. Alongside Charles Dance's soothing voice over, the audience is introduced to Austen's world of polite society, matchmaking and Zombies, via a clever re-telling of history explaining the origins of the zombie plague.
In keeping with Regency-era authenticity, the prologue unfolds through a tunnel book, providing a theatrical stage for the fictional narrative to take place. Working with satirical newspaper cartoonist Martin Rowson, Ben and team transformed hand drawn illustrations into 3D animations, intricately rendered and paced to the prologue's voice over narration.
Pride + Prejudice + Zombies was all done in 3D, the team worked hard to recreate the visceral and dusty reality of a regency tunnel book, they added creases, paper texture, flickering candle light, jerky animation, lens distortion and depth. This all made the prologue feel more real and paired beautifully with the narration. The Mill's Senior Designer Chet Hirsch designed the film logo which was both elegant and intriguing.
Find out more in our behind the scenes blog and Ben's interview on Art of the Title
---
Mill+ created 'A Journey to Hope', an original animated piece for charity cycling group Fireflies West in support of their annual ride down the California coastline in support of cancer research facility City of Hope. The film illustrates the six-day ride from San Francisco to Los Angeles using a combination of 3D and cel animation. The concept, developed by Phil Crowe, ECD at The Mill LA, Tara DeMarco, VFX Supervisor, and Mill+ designers Amy Graham and Kyle Moore, uses the riders' physical journey as an analogy to reflect the struggle of those affected by cancer.
Amy and Kyle take us through the process of creating the beautiful film in our Behind the Scenes blog.
---
00:55 | Tine Milk'Olympic Film' | Directed by Martin Engh (Animasjonsdepartementet)
This collaborative project for Tine Milk, conceived and designed by Animasjonsdepartementet, developed by the Mill+ Studio and Directed by Martin Engh, displays a battle between the elements and Marit Bjørgen, the Norwegian cross-country skier. Our protagonist encounters a series of deadly obstacles such as avalanches, wolves and trolls, synonymous with Norwegian folklore. Taking influence from famous Norwegian illustrator, Theodor Kittelsen, we see the icy world brought to life by our team of Flash, Cinema 4D and After Effects artists.
---
00:58 | Motion Poems 'Wayne The Stegosaurus' | Directed by Aran Quinn, Jeffrey Dates (Mill+)
Mill+ was invited to participate in the 5th annual showcase of MotionPoems, a collaboration between world-class writers and visual-artists where each entrant was given a curated list of poems to select from and visualize for the screening.
Mill+ artists Aran Quinn and Jeff Dates jumped at the opportunity, and chose 'Wayne the Stegosaurus' by Ken Nesbitt, an adorable poem about a not so bright stegosaurus. They first set about creating a rough animatic to portray the poem's tale through a series of simple vignettes. Once the initial story was set, they poured over each shot with a blend of 2D and 3D animation, creating a hybrid visual aesthetic.
Aran chose to keep the hand drawn look, and push his illustrative style into a 3D space. Jeff animated the very cute but very stupid stegosaurus, Wayne, while Aran used the classic 2D cell animation technique for the birds, sun, moon, and Wayne's boiling painterly skin.
The deep texture of the wise sounding narrator's voice helped amplify the silliness of Wayne's simple mind. The sound effects and design then became a subtle layer to aid the jokes. They were necessary to help hit the punch lines for most of the gags such as farts, disco beats and thunder strikes.
Find out more :behind the scenes interview with the Mill+ directors.
---
01:01 | Dairy Queen 'Clap Your Feet America!' | Directed by Matthew Darnal (Mill+)
Dairy Queen kicked off the 'Flip a Blizzard' campaign with the spot 'Clap Your Feet America!', inviting fans to #GetUpsideDown with an Oreo Blizzard treat. Barkley US and Mill+ in Chicago collaborated on the fully animated spot celebrating DQ's upside-down philosophy.
Directed by Mill+ designer Matthew Darnall, the team in Chicago designed a whole chorus of weird and wonderful animated characters and a world of topsy-turvy fun. He explains: "The main rule was very simple: every character is upside down and every character finds a way to make it work for them! After that, the inspiration was a creative, fun, simplistic and organic process. A character had to make us laugh, whether it be in design, absurdity or animation. As long as it was charming, we would make it work."
Find out more:behind the scenes blog.
---
01:05 | The Fableists 'Epic Thread' | Directed by Ivo Sousa, Kwok Fung Lam (Mill+)
In collaboration with Brothers & Sisters and Eclectic, the Mill+ design and animation team created a charming, colourful and engaging short film for children's eco-fashion brand The Fableists. The film, narrated by Jennifer Saunders, tells the story of a young girl, taken on a whimsical journey by the loose thread on her t-shirt in the quest to discover its origins.
Inspired by the illustrative and graphic style of The Fableists' t-shirt designs and by the concept of how a child might see the world, Mill+ animation directors Kwok Fung Lam and Ivo Sousa created an animation sequence using exaggerated angles, bold colours, distorted reality and tight cameras to create an epic fantasy journey full of energy and most importantly fun.
Mill+ artists used a whole host of techniques to bring this project into fruition; style frames were drawn up in Photoshop, the character animation was drawn frame by frame in Flash, with other elements being completed in Cinema 4D before the whole piece was composited together in AFX and Premiere.
Find out more: behind the scenes interview with the directors.
---
01:07 | Mill Logo Windmill St. Animation | Directed by Melanie Climent (Mill+)
Concept artist Melanie Climent created the 2D Mill logo animation picturing The Mill's London studio with a bit of compositing magic from animation director Kwok Fung Lam.
---
Explore the newly launched Mill Animation page featuring a collection of 2D Animation, CG Characters and Photo-Real Creatures.