Wake-Up Wednesdays is a casual morning lecture and workshop series where exciting creatives come to The Mill to share their work and wisdom. First launched in the Los Angeles studio last September, the series was themed Training the Eye. Each guest was offered an open platform to provide insight about their technique and personal narrative.
This season featured a visit from Elvira Barriga, creative director at Imprint Projects; Daphne Christoforou, a gifted illustrator; and a fun pinhole camera workshop with products from The Pop-up Pinhole Co.
During their visit, we asked for our guests' perspectives on life, creativity and their craft. Here are some of their most intriguing answers:
Elvira Barriga
Elvira is a Spanish-Austrian blend based in New York City, field-tested for 11 years in Berlin and 3 years in Toronto. She sees herself as a creative director, art director and designer.
Is creativity inherent or learnt?
I think it's a big myth that creativity is some sort of a special gift. Everybody has the potential to be creative. Creativity is mainly a curious mindset that is looking for new ideas to solve problems. It's an attitude, a skill and a process. And there are tools and methods that can be learnt to access the potential and foster the process. It might come more naturally to some people; others might have to work harder for it. It's like a muscle. The more you use it, the stronger it gets.
What is your go-to source for inspiration?
I like to start with a deep dive into the challenge, analyzing the situation and its constituents and asking a lot of questions (which is not always comfortable). I try to avoid going to a blog or looking for best-in-class references as a first step. It's tempting, but I find it blocking rather than stimulating when looking for something new and fresh.
When I feel like I need some inspiring escapism then I look for an art exhibition that has substance.
Elvira visits The Mill in LA
What are you doing when you're not hard at work?
Sitting on my butt and trying to meditate, balancing in a squiggled yoga position, traveling, hugging friends, forgetting about the everyday at art exhibitions, weaving through the city on my beloved racing bike, listening to podcasts.
Is there anything else we should see?
Nature. Again and again.
Take a look at Elvira's work at www.matterandmore.com
---


Daphne Christoforou
Daphne is an illustrator from Cyprus. With a fascination in ancient oriental artwork, she has been working between technology and traditional illustration, reaching maximum in visual richness and depth in meaning.
What is your go-to source for inspiration?
Historical objects (in books and museums) are a great inspiration for me, as well as nature, science documentaries and interiors. But it varies; sometimes I might get inspired by what somebody said, an outdoor space or even my pets!
How do you make yourself better at what you do?
By practicing drawing and learning new techniques, but also taking breaks to clear my mind. Through experience, I have noticed that some of my best work was done after periods of not drawing. Overworking can result in 'stale' work!
(L)'No Thing' depicts the Buddhist concept of Perfection (R)'I felt bad that I felt bad for him' narrative, hand-built pot based on Jeffrey Dahmer
Tell us about a project of yours that you're particularly proud of.
I guess it would be 'No Thing' since it won two big awards recently. It took me a long time to finish and I had to lock myself in the house until it was done, since I was getting frustrated with how time consuming it was. Nothing happened for some time after I finished it so I thought "Oh well I did it for myself and I like it", but it is great to see it is appreciated now.
Is there anything else we should see?
Sometimes it is nice to see the world as if you were an alien/visitor and never seen any of it before. It makes your mind see familiar things differently!
Take a look at Daphne's work at feelondemand.com
---


The Pop-up Pinhole Co.
The Pinhole Co. created Viddy, a do-it-yourself pinhole camera kit we used in our first workshop session. We built the cameras from the beautifully designed materials provided and worked our way toward creating images, many of which were shot in front of custom gray scale backdrops.
Our talented Mill colleagues were involved in this session beyond the construction of the cameras alone: 2D artist Jeff Langlois provided the imagery for the backdrops that feature photography, and Mill+ designer Amy Graham's beautiful penmanship was used for the typography backdrops.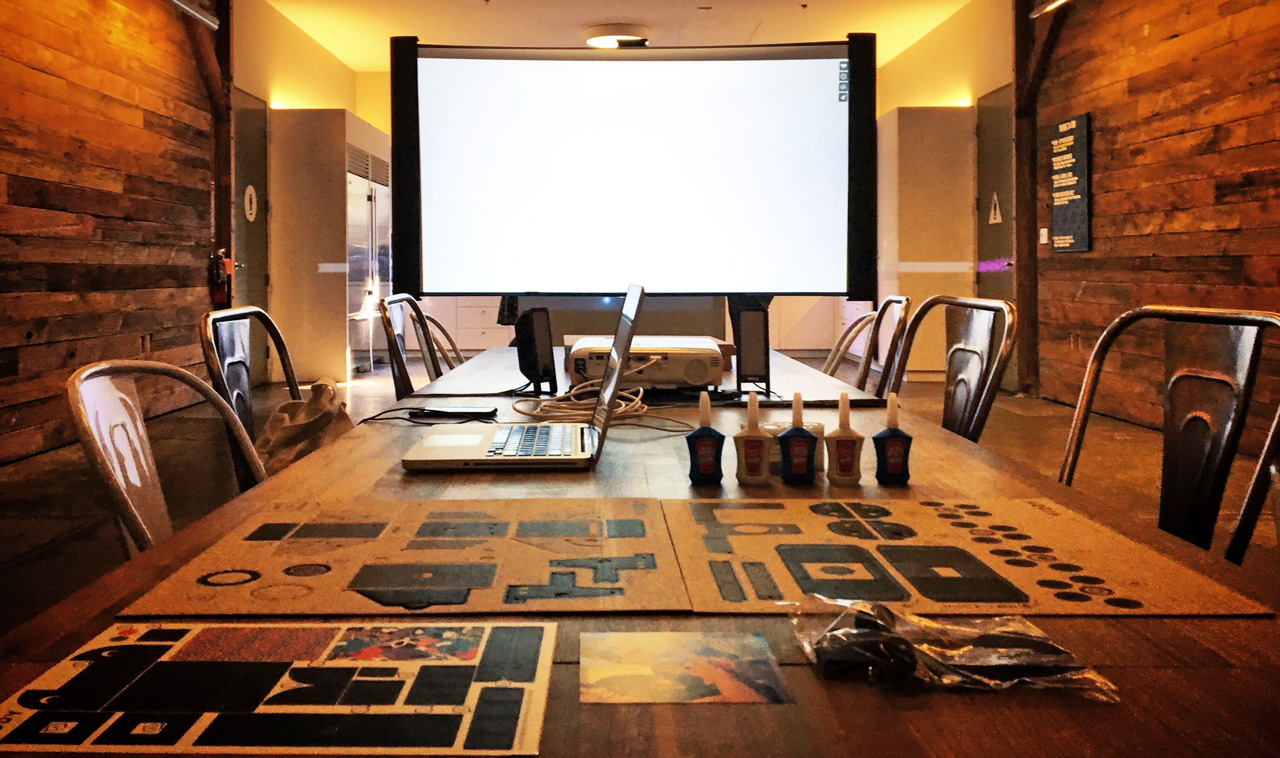 ---
We're thrilled to introduce the theme for our springtime Wake-Up Wednesdays series here in Los Angeles: Start at the Very Beginning. Check back for a look at our new creative guests and exciting experimental workshops! #WakeUpAtTheMill
Featured Image: Daphne Christoforou 'I am'