Country Crock '
Imagination
' transforms an everyday meal with Mom into an exciting adventure with a heroic farmer and the colourful monsters prowling the tabletop. The spot is a celebration of the limitless creativity of a child's imagination and its ultimate champion, a playful and nurturing mother. Mill+ Director Ben Smith collaborated with
Campbell Ewald
and Creative Director Chip Rich to bring the fantastic make-believe world to life.

The film begins in the wild world of a boy's imagination, shot at table-level to capture all the action, our hero whizzes across the tabletop, narrowly evading the jaws of a paper shark only to be met by a six-legged, multi-coloured monster. As the bright lights of a descending spaceship interrupt the showdown, the real (adult) world comes into focus, and mom safely brings the Country Crock in for landing.


CHARACTERS
To show that a child's imagination is the key component to this magical world, the characters needed to reflect a child's ability to explore and create with even the most ordinary and everyday objects. Ben found the perfect source of endless wonder and creativity to help create the film's unique characters, the imagination of his kids, Sadie (6) and Sonny (4), and their friends and family.
Play-Doh Monster
The creative credit for the concept of the six-legged star of the spot goes to Ben's daughter Sadie. During Easter celebration at Ben's home, he armed the kids with Play-Doh and goggle-eyes and let the tiny artists create their own monster masterpieces. The family-fueled brainstorm resulted in Sadie's six-legged, multi-colored monster becoming the star of the spot.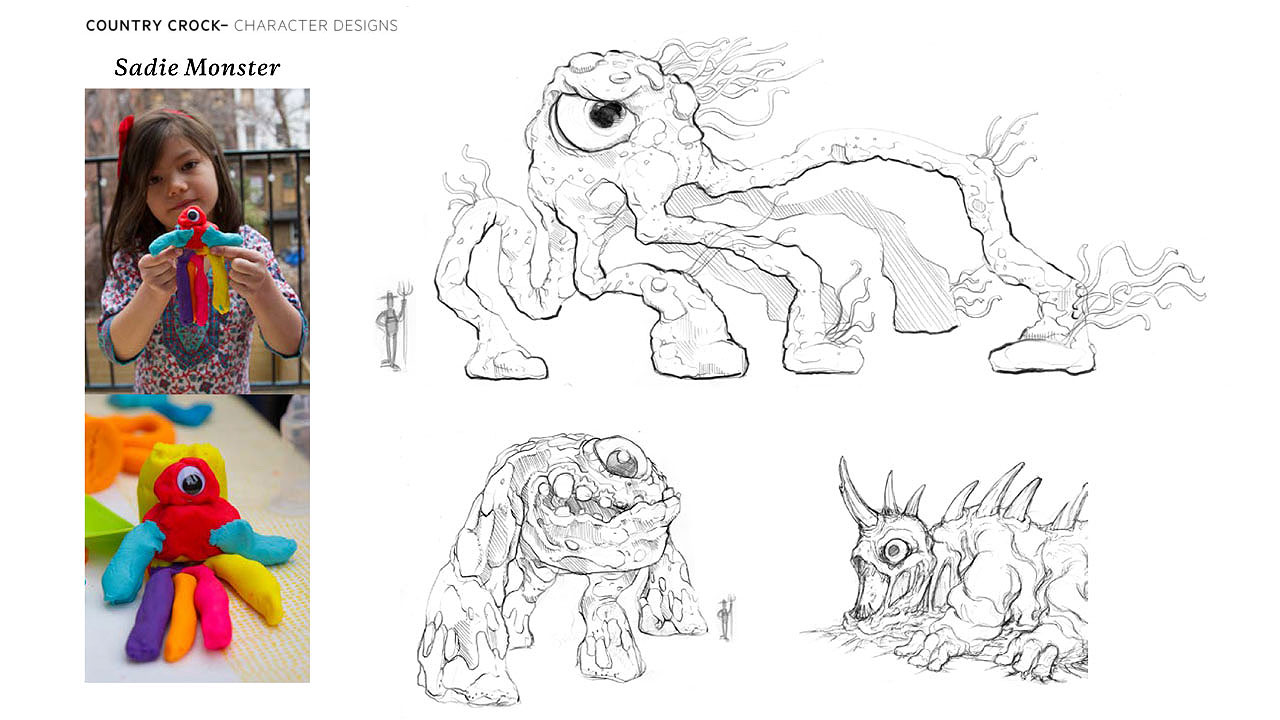 The multicolored, trident-wielding monster can be seen thumping across the table in pursuit of our fast and furious farmer at the peak of the spot's action.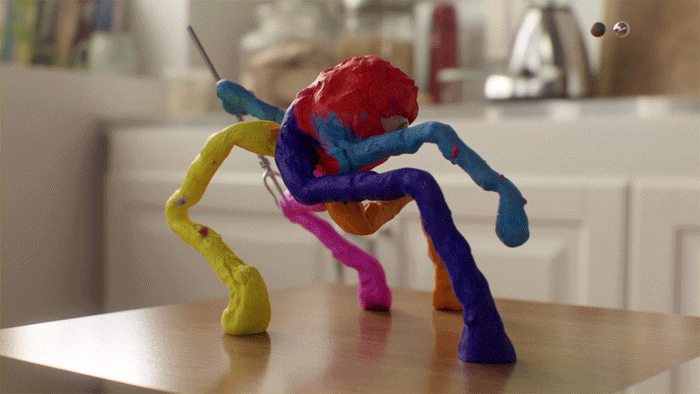 To create the remainder of the toys, the team of Mill illustrators put pencil to paper and hand drew each concept. The Mill's 3D team then sprinkled in a little of their own childlike magic to the designs, making sure to tap into a child's pure playfulness and unrestrained inventiveness: a farmer's tractor becomes a three-wheeler, a two-dimensional crayon drawing of a shark splashes to life and a tub of Country Crock transforms into a glowing spaceship from a far off planet.

Farmer
Our farmer-hero drives a chrome, souped-up drag racer, which is actually a regular toy tractor with some drinking straws and bits of cardboard stuck to it.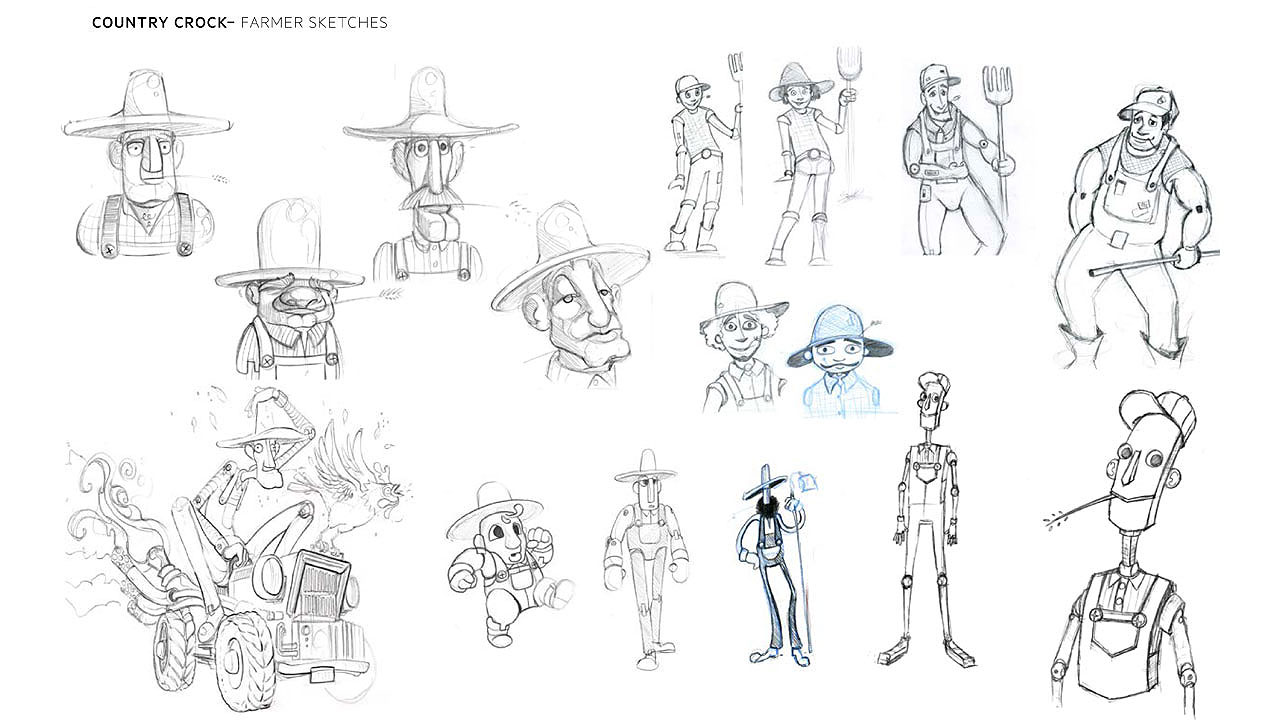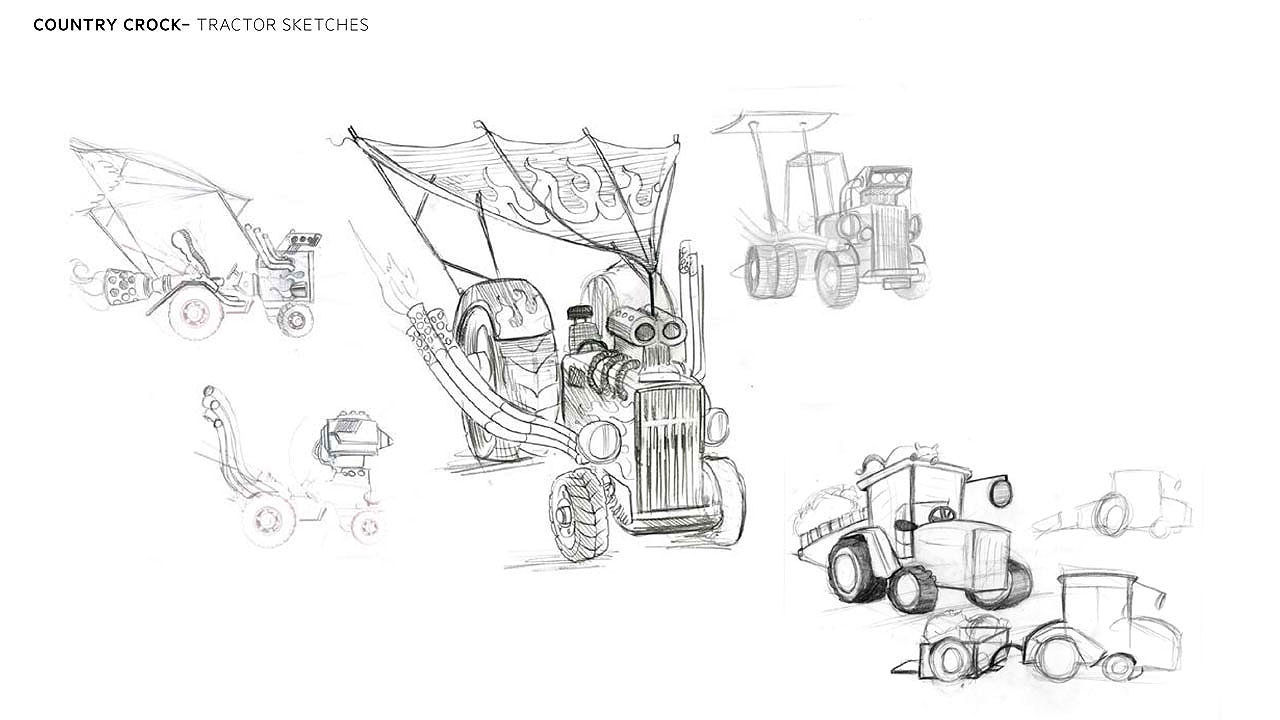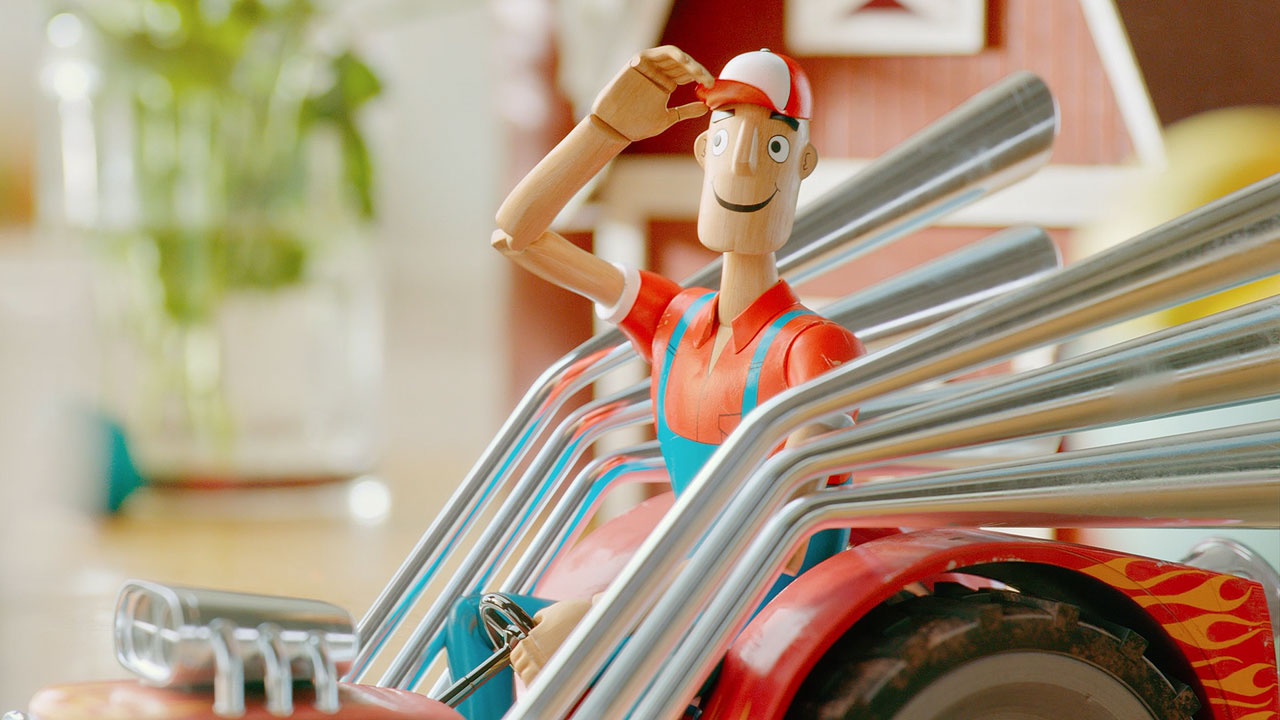 Shark
The child's shark drawing comes to life and chases after the tractor, diving in and out of the table as it narrowly misses taking a bite out of our hero.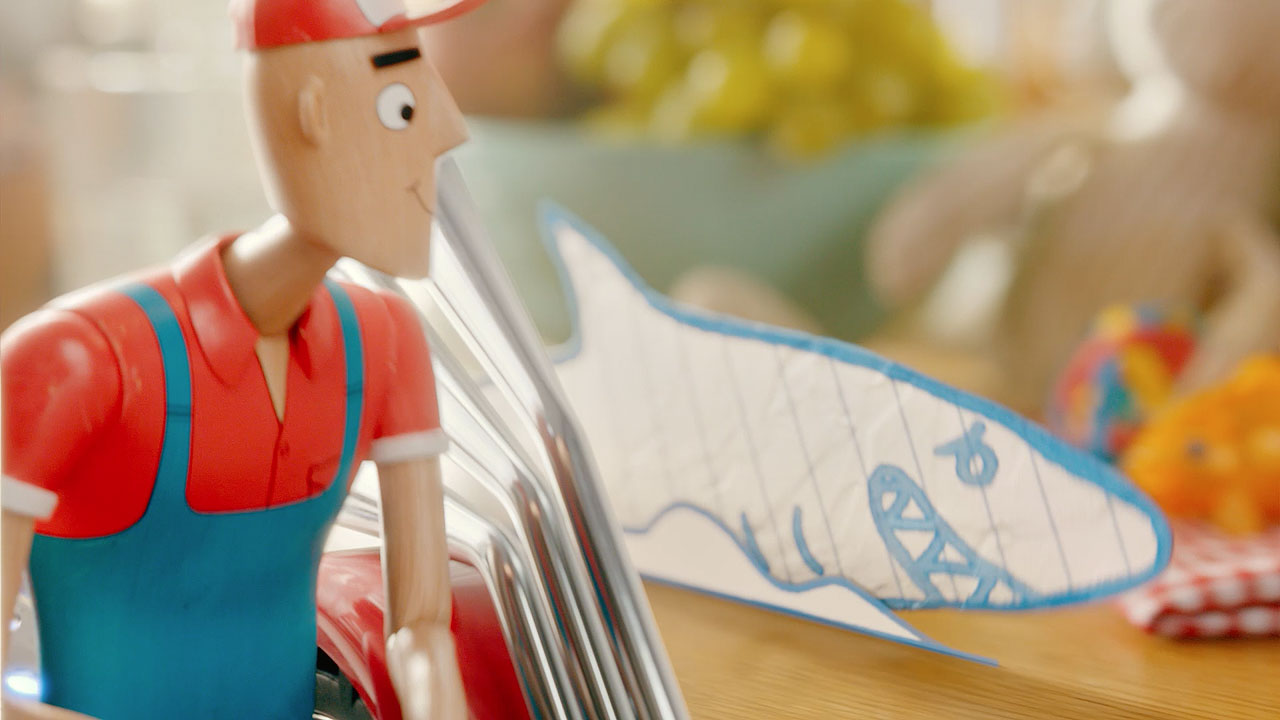 Spaceship
A giant spaceship interrupts the battle between the farmer and the monsters, who stop and stare at its beaming, bright lights beaming which slowly fade to reveal a tub of Country Crock.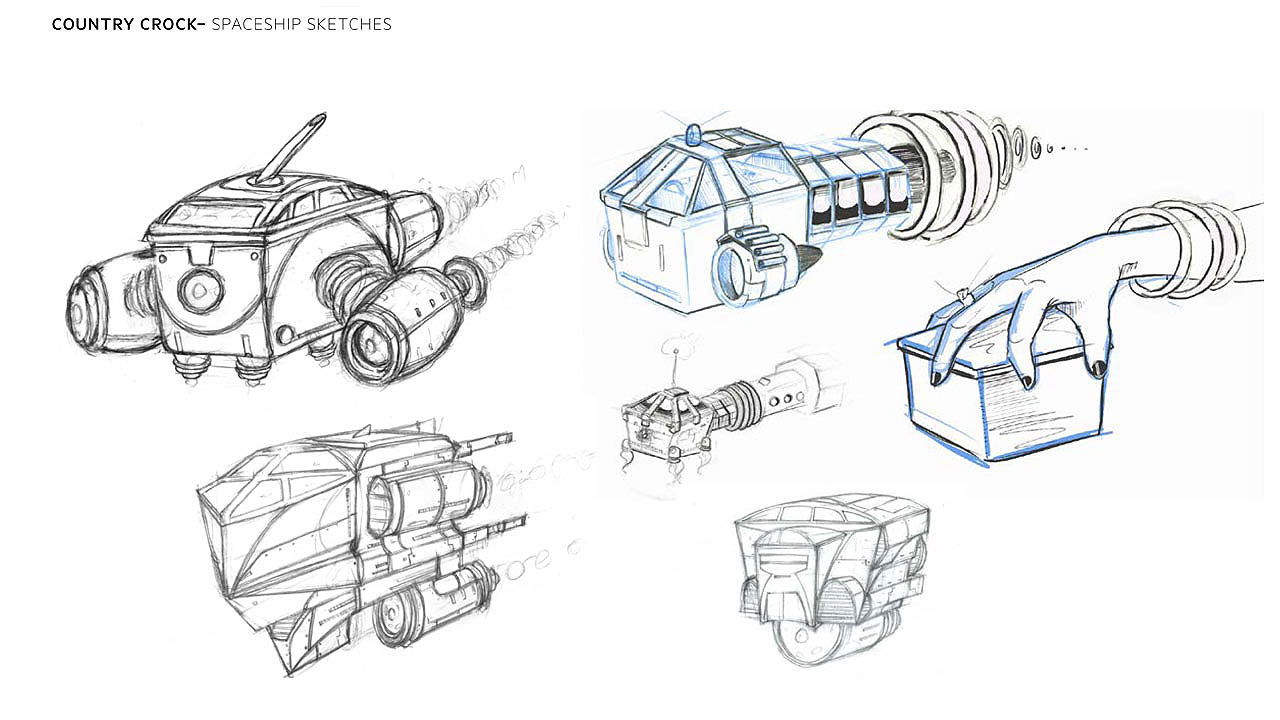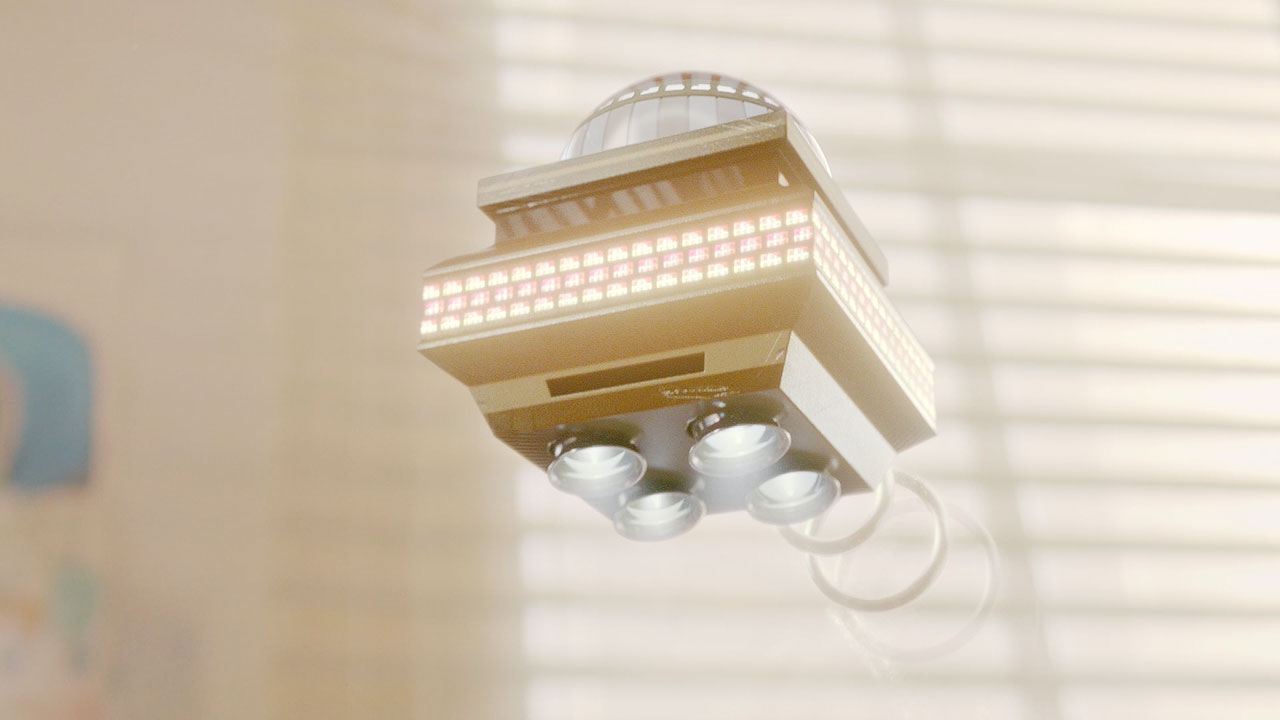 The 3D elements were comped into the live action, merging the imagined with the real world. Finally, Mill colourist Mickey Rossiter kept the fun of the spot by adding in warm and colorful tones, making each of the animated characters really pop with life.
Take a look at more Play-Doh monster concepts from Ben's friends and family: