After reaching success with 'No Cameras Allowed', director Marcus Haney's most recent creative endeavour saw him document his biggest challenge yet – 'Breaking The Triangle.'

Native to Los Angeles, where he made his first ever film in elementary school, Marcus made a name for himself in college, breaking into numerous music festivals armed with a camera under the guise of press, and documenting his experiences. It started with Coachella, but now, a few years on, Haney has become renowned for breaching the fences of the world's most iconic festivals, never once paying for a ticket.
Since his first foray into the world of documenting festival break-ins, Marcus has made two films (not including the feature film he wrote and directed in high school), toured with his favourite bands and been taken on what he describes as a 'crazy magical ride.' (Not to mention he's about to start up his own publishing company!)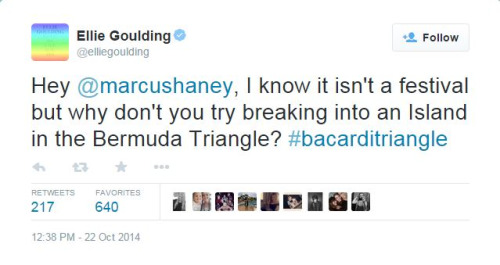 Haney's notoriety as a professional fence jumper led to singer Ellie Goulding publicly challenging him and a group of friends to break into her exclusive gig on a private island within the Bermuda Triangle. 'Breaking the Triangle', a 25 minute short, is the result of his overseas exploits, filmed and directed by Haney himself, and graded by Mill colour assist Brendan Buckingham.
"Breaking the Triangle was shot mostly on DSLR with some drone footage." Says Brendan, "The brief was to bring a balance to the film, as well as correct the colour and up the picture in general.
‪This was a great opportunity to work with a young director, Marcus Haney, who already has a huge following due to his successes gaining entry to high profile festivals and live events. It's a fun and energetic story, which I wanted to make sure carried across in the picture by keeping it bright to match the Bermuda environment. He was very happy with the end result of the grade which is great to hear."
Brendan & Marcus
Marcus' work however isn't just focussed on candid-camera festival exploits; he often works in a range of mediums and narrative styles. "I work in all formats," Says Haney, "I've done documentaries, feature films and music videos as well as photography. It's what the story calls for that tells me what medium to work in– if the story is better told through narrative, I prefer to tell through narrative, however if the story calls for documentary, then I'll make a documentary".

So what's next for this tour de force of filmmaking? Marcus is embarking on a project like none that he's done before, "I'm really excited to be starting a book publishing company. It will initially be focussed on photographic books looking at the music world, and then branch out to produce photographic books of all types. My partners are based in London and it's going to be really exciting. The idea is to cut out the major publishers and do it all ourselves".
Follow more of Marcus' work on his website and Brendan's colour work on his blog, or follow @Brendan_Colour.