We're
following Chris Scott,
Flame Artist at The Mill in London, on The Fireflies Tour 2015. Inspired by the courage it takes to fight cancer, cyclists from the advertising and film world take on the annual challenge to support Leukaemia & Lymphoma Research, cycling 1,066+km across 'Les Grandes ALPES'
in just eight days to arrive during the
Cannes Lions Festival
.
Stage 1
Tuesday, 16th June
Amphion Les Bains - La Clusaz
Distance: 130km Ascent: 3,730m
Colu Du Corbier 1,237 m
Col de Joux Plane 1,700 m
Col de La Columbiere 1,613 m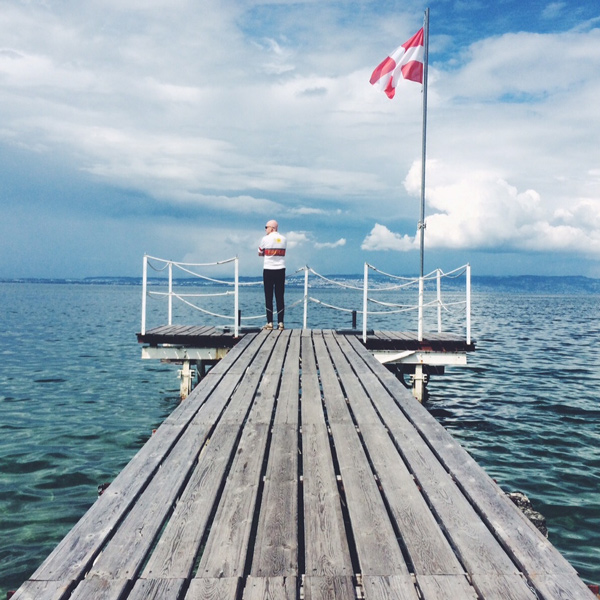 So here we go. Lycra donned, food packed and appropriate areas moisturised. It's wet, very wet and we are going up, so expect wetter. Pack all clothes, OK. Oh well at least we won't be sweaty (I assume).
This is not the first time I've taken up this challenge. However my body is still riddled with anxiety. Everyone is on edge as we clamber across the Pier for the innagural team photo.
Today is all about Columbiere. Yes we have some mountains in the way first and don't get me wrong; they are tough climbs. However, the cold dark beast of a mountain is one that haunts us all. She has many turns that trick you into thinking that you are closer to the summit. They are like cycling mirages. I gave it my all and upon reaching the top, you quickly become freezing, and feel very sick and dizzy. So you eat more food, mainly nuts.
What a start to the Tour! All kit on the radiator full blast!
| | |
| --- | --- |
| | |
| Keeping warm on top of Corbier | Take that Corbier! |
| | |
| Descent of Colu Du Corbier - Photo by Max Burnett | Cloudy on Columbiere |


Stage 2
Wednesday, 17th June
La Clusaz - Brides Les Bains
Distance: 130km Ascent: 3,700
Col des Aravis 1,486m
Col des Saisles 1,650m
Cormet de Roseland 1,967m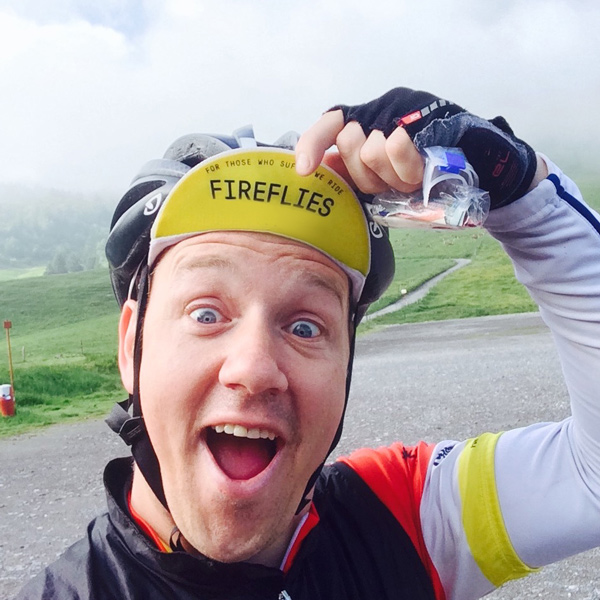 Yes! The sun is out, glorious sunshine and The Alpe Support Crew have washed our bikes whilst we tried to recover the night before! The Tour is so jam packed that you don't have a chance to take a moment and chill. Too much ground to cover.
Today's climbs will be much more scenic, chatting to mountain goats and ringing cow bells, with the occasional 'Bonjour' to the mountain folk. It's the second day and the muscles are feeling it now. Unfortunately, my body has reacted badly with something overnight, so I'll be towards the back of the pack today. It's a long trip!
Midway up Roseland there is a stunning bright blue lake where we stop to eat. The family run Alpine lunch spots usually tend to panic, as the red lycra squad enter the premises ready to eat the horse out back. Pork and polenta, the perfect energy booster! You really can't believe how much you have to eat on the Tour due the millions of calories burnt.
| | |
| --- | --- |
| | |
| Lovely Aravis chapel | Roseland lunch spot |


Stage 3
Thursday, 18th June
Brides Les Bains - La Grave
Distance: 138km Ascent: 4,200m
Col de la Madelaine 1,993 m
Col de Telegraph 1,566 m
Col de Galibier 2,645 m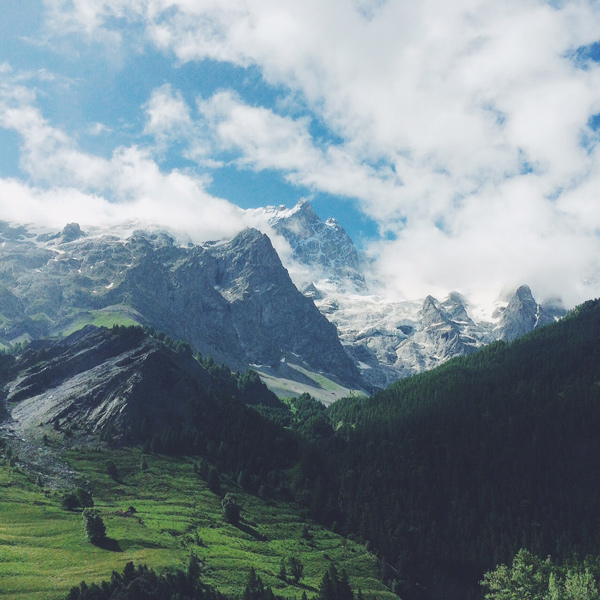 This is the big one! Three mammoth climbs, as quick as we can. There's no time for wasting otherwise the weather could close in on top of Galibier and we'd have to be taken off the mountain in the vans. One of many rules set by the legend Phil Tidy is that, 'The van is not an option!'
Madelaine is a long slog, weaving up the side of the mountain with no shade from the heat. It's 28 but feels much hotter. There's a constant drip of sweat beading off the peak of my cap, but I'm feeling good and keep grinding along.
Carbonara yes please, down in 5 minutes. And we're off again on another descent. That's something some people forget to mention about the Fireflies. The descents are your reward for the hell you have just been through. Reaching up to 70k and holding on for your dear life while flying down winding alpine roads. Nearly everyone has a smile ear to ear as we regroup at the bottom! Shed some clothes and we're off.
Telegraph is supposed to just be a small bump in the way of Galibier, but it's not to be taken lightly. Hot, hot, hot! Your mind is telling you to stop and rest or even worse give up! The point of the Fireflies is to suffer and suffer a lot! So you push through with positivity, determination and haribos.
As I start to climb Galibier, all the memories start to flood back. The mountain starts off steep at nearly 10% but it's sunny and green. You are lulled into a false sense of security. Soon though, the mountain opens up into a huge, scary empty expanse. It's like a different planet with evidence of ginormous land slides around you. Quick nod and spark of jealousy as a descending cyclist passes you.
Temperature drops and the gradient is still there. Standup pedalling usually grants you with some relief, but I haven't got the energy! I may fall off bike over sheer cliff.
Cool relief as I start to cycle past walls of snow. Weave after weave, it's relentless!
The cheeky thing about Galibier is that once you think you have summited, there is a further 1k to go. It's an absolute mind bender. Above the clouds it's cold BUT you can hear the cheer of Laine LL and crew!!! She is the Firefly Queen. The flags are out and cameras are flashing. I can't believe I've made it!
Wrap up in tinfoil, eat more food and pleasure in the fact that tomorrow is the well deserved rest day!!!!!!!!!
| | |
| --- | --- |
| | |
| Not happy about diversion up Madelaine | The start of punishing Galibier |
| | |
| Matt Fee conquering Galibier | Galibier smashed! |
Update: Mill Firefly down - but not out!
So it all ended with a bit of a spill! It was the end of the 2nd to last day with only 9k to get down to the hotel. My chain fell off at the top of the descent, so I was going down alone. Luckily one of my fellow Flies heard my scream as the road weaves itself back and forth, and came to my rescue! The two French fellas behind in their car stopped and rang the ambulance. The whole thing is still a bit of a blur, but I know I'm very lucky to have come off as well as I have.
Dosed up on painkillers and against all advice, I still managed to complete the last 100m and cross the finish line!
I'm now recovering with my collarbone reinforced with some bits of metal, and itching to get back onto Flame! It has been an amazing emotional trip and I have made a whole load of new friends and Firefly family!
It's not too late to sponsor me (hint.. hint..) And thank you to everyone that has!!! [Donate here: Leukaemia & Lymphoma Research DonationPage]
Special mention to the amazing Laine Lyndsay Law, Nurse Rachel Ewer, the Alpe Team, Fred, Max Burnett & Mike McGee.