To commemorate the 2nd year anniversary of the The Mill's studio in Chicago, the team unknowingly collaborated on a series of hand-drawn illustrations that celebrate all the things each person loves about the city we now call home. Creative Director Bowe King explains the concept and design behind the project.
We wanted to make a piece that was not just from one person's mind, but rather, a piece that incorporated each person on the team's voice. After some initial concepts that were more one dimensional, I thought of getting every person here to chip in. So without explanation, I sent a request out to the team for a simple one to two word description of what their favorite Chicago thing was - the key being to keep it simple and not over think it.
The results were honest and fun reactions, including, of course, The Lake and The Food but also quirky things I hadn't thought of like House Music, Summer Bikinis, Craft Beer and Chicago's often present No Puking Policy.
The sketchy look of the illustrations was based off of a Chicago Mill+ illustrator's work,
Matt Darnall,
who is also a Chicago native. We thought it had a very artistically crafted and whimsical look to the line work. The initial idea was to create the icons in a cute vector art direction, but the hand-drawn look made things feel so much more personable and honest.
Adrian Navarro
, Matt and I worked our way through the 49 mini illustrations, collaborating on ways to visualize the ideas that would read immediately, even at a small scale. We really just wanted to have fun, so we kept sketching and re-sketching some of the ideas to give things a little more charm.
We ended up with a collage of bits that show what makes our Mill studio and the city here enjoyable to be a part of. One of the most amusing things about the piece was that unbeknown to the group here, they all collaborated and had a part in it.
Take a closer look at the illustrations and see a guide to the meaning behind our favorite Chicago "things" below: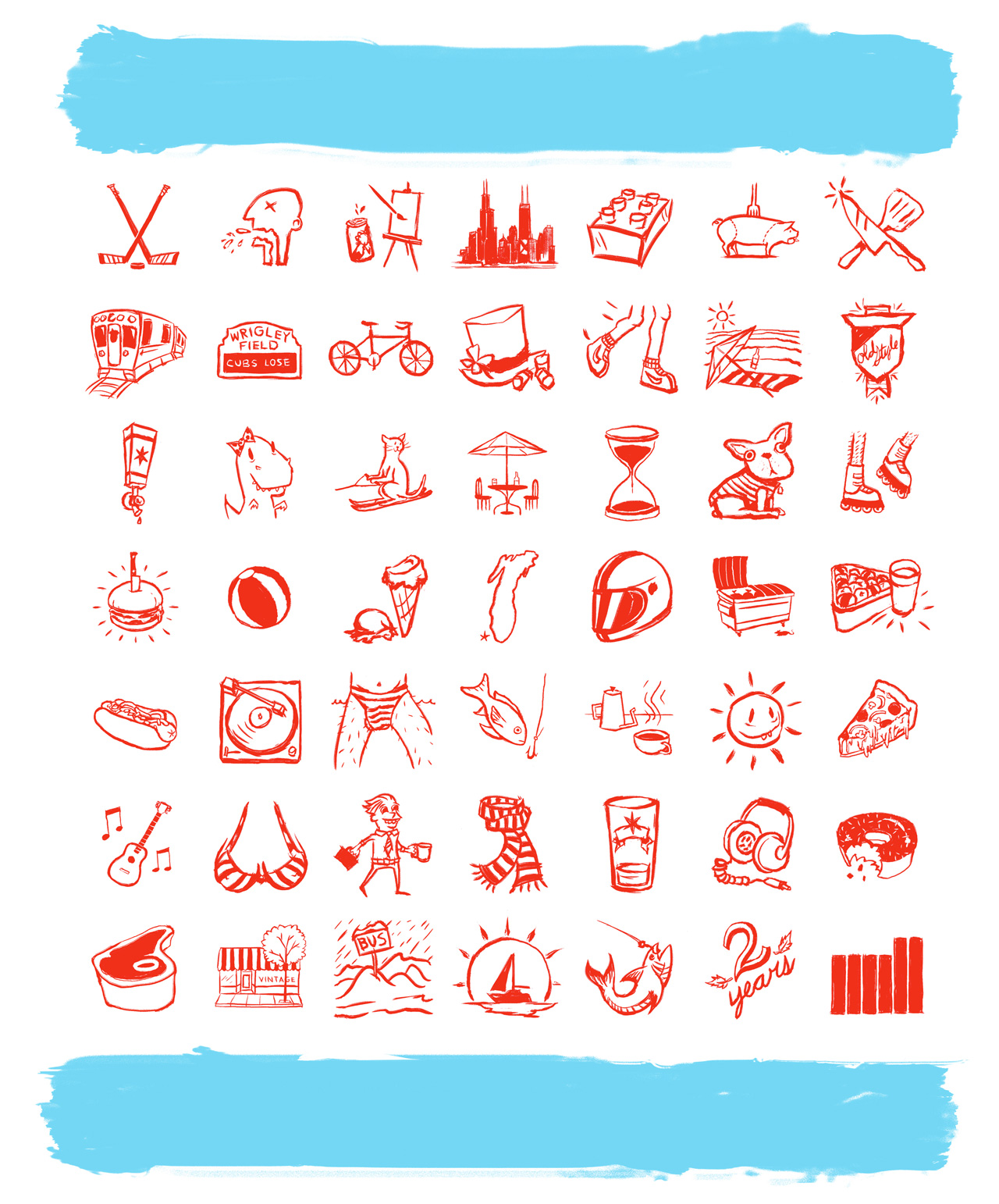 Hockey
Hookah Bar - No Puke Policy
Art Scene
Chicago Skyline
Lego's
Purple Pig
Cookin & Grillin'
The CTA
Wrigley Field
Bike Friendly
St. Patty's Day
Running
The Lakefront!
Old Style Beer
Craft Beers (Beer Tap)
T-Rex named Sue
Lake Michigan (cat water-skiing)
Summer Bar Patio's
Pace of Life
Penny
Lakeshore Path (Rollerblading)
Au Cheval Burgers
Montrose Beach (Beach Ball)
Ice Cream
The Lake (Lake Michigan)
Mopeds (Helmet)
Alleys
Lemmings (Pool & Pint)
Hot Dog
House Music
The Lake (Speedos)
Fishing
Tea / Coffee
Summer (Sun)
Amazing Food
Blues
Summer (Bikinis)
Nice Walk to Work
Scarves
Craft Beer (Pint)
WBEZ/Radio Headphones
Donuts
Meat Packing
Vintage Shops
Snow
Sunrise at Belmont Harbor
Fishing 2